In search of more Matt Kemp cards, I rummaged through eBay recently. What did I find?
Woohoo! I love me some minis, even more so when they feature Matt Kemp and/or there is some type of autograph or memorabilia attached. This one happens to feature a sweet bat slice of Matty Ice, a great card for number 199 in the PC.
But the seller didn't just have the Kemp listed, he had this sweet relic of Hyun-Jin Ryu. Both cards had a best offer option available, so for a few bucks they were both mine.
I'm not too familiar with the 2014 Topps Baseball Minis set, but I am a big fan of the relics they put out. They do still have that wavy nameplate thing on the bottom, but the annoying tab on the right side of the card is gone.
These cards may also be a bit of a preview of 2015. At least, that is what I am comparing the background of these cards to.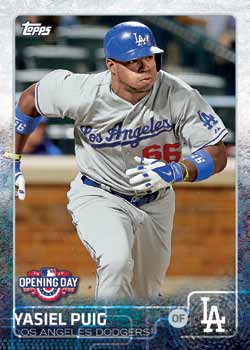 Speaking of 2015, I hope every one has a fantastic New Years Eve and New Years Day. I have my final post of the year tomorrow, and although it will contain my 200th Matt Kemp card, it will not contain the card I was hoping to show off. Eh, it will show up in the mail one of these days. Until then, I can always look back at my other 199 Matt Kemp cards. Maybe a Matt Kemp countdown is in order...